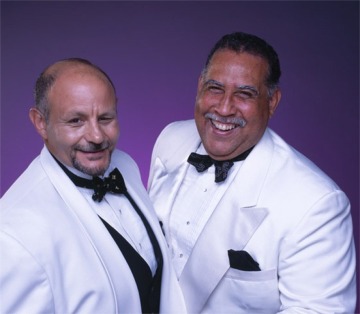 The Mills Bros.
John Mills II and Elmer Hopper
みなさん、ミルスブラザース・サウンドはまだ生き続けています。
Everybody, Mills' sound is still alive.
およそ、40年ぶりの来日となります。
Mills Bros. will come back to Japan after an interval of about 40 years.
Oct. 6 - 15, 2005 JAPAN TOUR
The Mills Brothers In Concert
Dates on Hold for 2 nights in TOKYO with BIG BAND
2 or 3 other venues TBA with and Jazz Quartet
Oct 8 岩本町 TUC (with J-Line Jazz Orchestra)
Tokyo TUC at Iwamoto-cho with J-Line Jazz Orchestra
Oct 10
六本木 STB 139
Sweet Basil at Roppongi, Tokyo
Mon Production 30years Anniversary Reception
(Private Party from 12:30〜 )
Guest performers
The Mills Brothers
Marlena Shaw
公演ではありませんが、出席できるかもしれません。もんプロ社長西蔭氏にお問い合わせください(\10,000)
Oct 12 六本木・バードランド 詳細不明
Birdland at Roppongi (no details) TEL 03-3478-3456
Oct 13 渋谷 Jz brat (with J-Line Jazz Orchestra)
Jazz Club Jz brat at Shibuya with J-Line Jazz Orchestra
後の予定はキャンセルとなりました。
14日に帰国しました
Elmerから「日本に行くぞ」とメールが届きました。
e-mail from Elmer Hopper(June 14, 2005)
Hello there Wakayama San, I hope all is well with you
these days. It looks like I'll be coming to Japan in
October this year.
Yoshi Nishikage is bringing both John Mills and Myself
for about 6 days to work some nightclubs this time,
and next year we'll be there for a longer visit. So I
wanted to tell you.
I'm hoping that while I'm there you and I can meet.
So until then or untill we speak through Internet,
Please take good care my friend. Musically Yours,
Elmer Hopper
Mills Brothers (日本語)   Mills Brothers (English)
ミルスを呼んだのはモンプロの社長です。最初から危ないと思っていましたので、ミルスには「大丈夫か」と念を押しました。「今回は大丈夫だろう」と言って来日しました。しかし、案の定、JZ Bratのライブもぎりぎりのところで実現したものです。
13日午前中に本人たちから私のところに電話があり、「トラブッていて出演は出来ないかもしれない。午後に再度電話する」と言うことでした。結局、何とかこの日だけはやる事になり、次の日以降の予定はキャンセルとなり帰国しました。心配していた事が現実の事となりました。