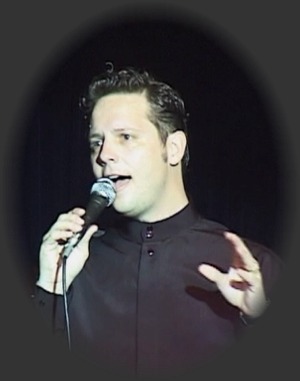 Craig Thompson

(1964- )
Craig Thompson
A native of Dallas, Texas, he first arrived in Japan when he joined the US Navy, and then was recruited to join sumo wrestling. During his sumo days, he represented the US in the International Amateur Sumo Championship Tournament. By this time he was a HUGE guy at 400lbs, but upon retiring (?) from his sumo days, he shed 200lbs in one year, and started his own band and became a singer. What a big twist to take! Big-T is his nickname.
Last year, he was invited to perform at HRH Queen Elizabeth II's Golden Jubilee Gala, along with such greats as Paul McCartney and Tony Bennett, and released his new CD, "Born to be Wild" in December.
He is a performer who can sing and entertain you with a wide range of great songs from standard jazz to cryin' n' jumpin' blues numbers.
In the US, he now has become an entertainer who produces top class parties and shows as well.
Craig Thompson brings Las Vegas style shows right to our doorsteps. With a great big band as accompaniment, he gave us his worth as a top entertainer with blues that can be wrung out only from his big physique, to soft and sweet ballads crooned as no one else can. I have been listening to his songs for over two years now, and I must say he has made a great leap again with the release of his new CD last year. He must be making efforts daily.
Shakushigakudo Master(Master of Story of Jazz Site) has so many friends who are renowned musicians and singers whose names just about everybody knows, and is always blessed with the opportunity to be able to listen to great music. As always when I listen to the Tokyo Bada-Bings, whom you could call, gYoung Musician All-starsh, perform, I was again struck by their flabbergasting power.

Wow, he is planning something fearless again --- But his aim is ---
With the success of the two nights, Craig left for home on the 20th. We went to the Takanawa Prince Hotel to see him off at noon that day, and there, he started telling us about his next plan.
He is planning a US-wide campaign drive. 8,500 miles (13,500 km) in 21 days. This means that he will drive an average of 650 km per day, visit 3 cities/towns, morning, noon and night, and put on mini-shows. What he is planning to campaign on is just like him. Coming up with something astounding and putting it into action is where the true worth of the wild guy that Big-T, Craig Thompson is, lies.
Following are the details of this tour that Ms. Tanaka, who during the week of Craig's stay acted as mentor and driver for him, sent in to me. Ms. Tanaka has spent her teen years in the US and being as proficient with English as any native, she not only stood by during Craig's stay, but also, since long before has been acting as a trusted liaison and go-between for all of us. After all, she can read all the fine prints.
Incidentally, Big-T Official Site has a Japanese version, the great translation having been done by her.
The tour is scheduled for May 10-31, with the manufacturer of Hummer donating a car for the campaign. The Hummer, which is mostly for military use, will be painted yellow (symbolic of the yellow ribbons that are decorated on the doors of homes of the soldiers sent to the front) and he wants to take along a lot of felt-tip pens so people can autograph and write messages on it.

He told me that the purpose of this campaign is to collect for the "Charity for the orphans of the fallen in Iraq". I suppose it is because he was with the US Navy at one time.

He will sing, put on a mini-show, and "pass the hat" as they say in English, and if he can sell his CDs as well, 10% of the sales from that will be donated to two charities in Dallas, Our Friendfs Place, a shelter for young girls and women, and Reading and Radio Resource, an organization that prepares tapes of reading materials for the visually handicapped.

To be quite honest, if it will be a help in promoting his CD, it would be nice, but the first and foremost purpose is to collect for the war orphans.

The Chamber of Commerce of Dallas is backing up this campaign and is contacting the Chambers of Commerce of the cities that he wants to go through. He said that he will load up speakers and all the equipment necessary onto the Hummer, and do mini-shows at all the places he stops by (3 stops a day, targeting morning, noon and night radio and TV programs), the accompaniment the instrumental tapes of his CD "Born To Be Wild".

Boy, what he goes for sure is BIG no end......

Hey, Big Daddy, set it straight, get it great!!

Not everything is easy. Almost all the states in the US have regulations limiting charities to those registered within the respective states. It will take too much time and effort to work out something with local charities and organize in time the tour he was planning. Texas is one state that does not have such a regulation.

He has scrapped the US-wide tour for now, and is preparing for a Texas-wide tour. Even this trip will be for 4000 miles. Try to imagine what itfs like, crossing Japan from north to south is 1250 miles.

There is a song that goes by the title "Tie A Yellow Ribbon 'Round The Old Oak Tree". A yellow ribbon symbolizes waiting for someone to come home. The song itself is about waiting for the man one loves to come home upon completing his jail term. In Japan, Ken Takakura starred in a movie titled "Yellow Handkerchief of Happiness" long ago.
Many people bought his CD in Tokyo as well. The donations will be made from the sales of these also. Strong in arm, gentle in heart, he must be Kintaro reborn.
He said that he would send me the details of his itinerary after he goes home to Dallas and the plans are finalized. Roughly, he will travel East to Jacksonville, then North along the East Coast to New York, West to Seattle, South to San Diego, and back to Dallas.