The Emerald Temple(Wat Phra Kaew) is near the Thailand King's Palace. Here is the Emerald Buddha. Hight=66cm and width=48cm.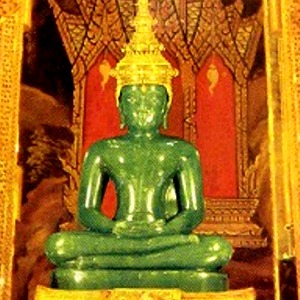 Emerald Buddah
Mr. Hiroshi Satoh who was the boss of live band bar DOMINANT, had been to Bangkok for the President of Thailand Mitsubishi-Isuzu Motors Company in 1990's.
Companion of Satoh-san in music club DOMINANT visited Bangkok two times. The last was fairwel concet "Thanks Thailand" in 1995. The daytime concert for Thailand people and night one was for Japanese friends.

K,Wakayama   Hiroshi Satoh   Tohru Shimada
Back: DOMINANT Band
This is my "New Year's Drawing for 2022".
With warm wishes.
Kunihiro WAKAYAMA
Professor Emeritus, Hosei University
1101 Palace View Yonban-cho
2-2 Yonbancho, Chiyoda-ku,
Tokyo, Japan 102-0081
wakaozsons◆gmail.com
---