多くの人はスティービー・ワンダーの歌を聴いているらしい。それ以前にトニー・ベネットもピカピカのバラードで歌うし、シナトラも乗り乗りのスイングで歌う。しかし、エド・サリバンショーでサミー・デイビスJr.が出て来た時、この歌を歌った。
Almost people hear the song by Stevie Wonder. Tony Bennett version is slow ballad, Frank Sinatra is swinging. Sammy Davis Jr. sang this song in Ed Sullivan Show.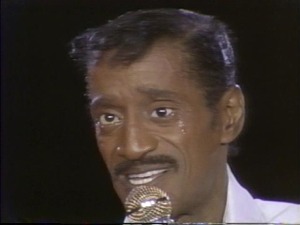 Sammy Davis Jr.(1925-1990)
「この速いテンポで歌うのは自分だけ」と前置きして歌った。初来日は1963年だった。産経ホールだったかNHKホールだったかに聴きに行った。最後はシナトラ親分とライザ・ミネリとのショーだった。S席は68,000円だった。最初はライザではなくディーン・マーチンを入れた3人でツアーを始めた。ハワイのやつに行こうと思っていたら、ディノが降ろされてしまった。リハーサルをすっぽかしたり、遅れてきたりでシナトラ親分の気分を損ねたということだった。
Sammy said "I'm the only one who sings in such high tempo". He came to Japan in 1963 at fisrt time. The last was with Frank and Liza Minnelli. Special seat fee was \68,000. At first, Frank, Sammy and Dean Martin started to tour, but Dean was replaced to Liza.
でも、サミーの死んだあと、2人でテレビに出て"The One I Love Belongs To Somebody Else"という古い歌を掛け合いで歌っていた。「おー、シナトラはディノを許したんだわい」と思った。
After Sammy died, Frank and Dean sang an old song "The 0one I Love Belong To Somebody Else" in TV. That was a special arrangement.
何曲かサミーの真似をして歌ったものだった。私が一番好きだったのはMr. Bojanglesだったが、この歌もよく歌わせてもらった。
Sammy was my favorite singer, and I have sung from his repartory. "Mr. Bojangles" was special.
---