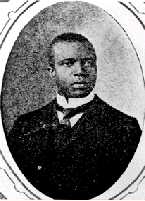 Scott Joplin(1868-1917)

A playing style has been called Ragtime Piano. The blacks could not have their own pianos; however, they started playing work songs or soul music with pianos once they were able to posses and play their piano. Ragtime is a preceding component of Jazz.

In 1893, in Fred Stone's "Ma Ragtime Baby", a word "ragtime" appeared for the first time. Ragged originally means irregular or uneven. In this way, notes are put in a bar without any particular rule, and people intentionally play notes unevenly. Then, Ragtime gradually compounded to Jazz and it resulted in syncopation for strong notes.

By publishing "Maple Leaf Rag" in 1899, Scott Joplin gained fame, and people called him King of Ragtime. Regarding to publication of "Maple Leaf Rag", there is an interesting story. Joplin composed several music and brought them along with "Maple Leaf Rag" to one music publication company. However, the publisher bought "Original Rag", and they did left out "Maple Leaf Rag." Another man, whose name was John Stark who was a farmer, ice cream sales man, and repairman of piano pedals took care to publish "Maple Leaf Rag." Within a year, Joplin and Stark sold about one million copies of the music; as a result, they earned so much money and friendship at a time.