ドリーが亡くなりました。はじめてランプライトで会ったときはドリーは60代、私は40代でした。それから30年になります。最後に日本に帰って来たのは2006年の1月、沢田靖司のコンサートにゲスト出演のための来日です。ドリーの誕生日は2月7日なのですが、2月4日(日)に赤坂のリトルマヌエラを借り切って84歳の誕生会をやりました。
Dolly Baker has passed away. When we met at Lamp Light at first time, Dolly was 60's and I was 40's. It has been thirty years since then. She came back to Tokyo in January 2006 for the guest singer of the concert of Yasushi Sawada. Dolly's birthday is 7th of February, so we held her 84th Birthday Party at Litlle MANUELA in Tokyo on the 4th of Februray sunday night.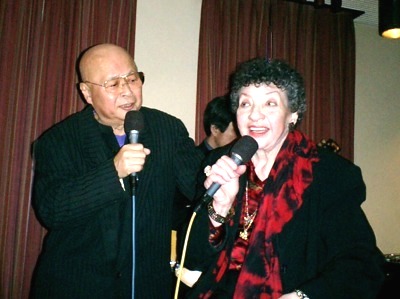 84歳の誕生会(沢田靖司とデュエット)
Duet by Dolly and Sawada at 84th Birthday Party.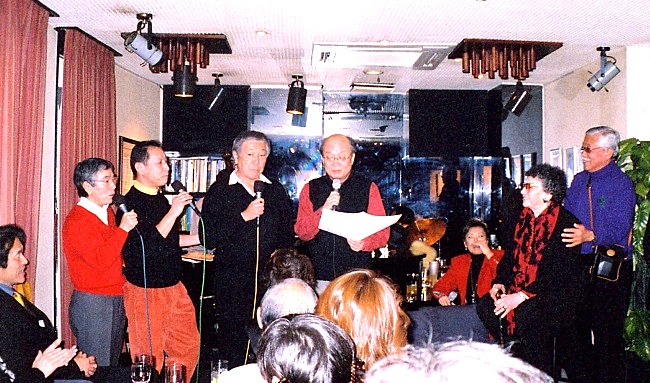 OZ SONSは"Hello Dolly"をこの日のためにアレンジして歌いました.
The OZ Sons sang "Hello Dolly" in special arrangement for Dolly.
1度か2度しか練習が出来ていませんので下手ですが・・
We couldn't have enough time for rehearsing, but listen
⇒ "Hello Dolly" by the OZ Sons
Dollyは「一緒にボストンに帰ろう!」って叫びました.
Dolly screamed "Back to Boston together!"

ボストン在住のドリーの親友、90歳のルーシーからメールが来ました。
Ruth Shapiro wrote me in her e-mail about the last two months of Dolly.
DOLLY HAD BEEN VERY SICK SINCE MIN FEBRUARY. SHE FELL AND INJURED HER HIP, AND WAS IN THE HOSPITAL. RECUPERATING FROM THAT, THEY FOUND HER LEFT LEG WAS BADLY INFECTED FROM THE RADIATION SHE HAD IN SEPTEMBER. IT JUST SEEMED THAT IT WOULD NOT HEAL. THEN HER RIGHT LEG DEVELOPED ANOTHER SERIES OF INFECTIONS, AND THIS ALL HAD TO DO WITH POOR CIRCULATION. THE SCARS AND WOUNDS FROM THIS GOT WORSE AND FINALLY THE DOCTORS WANTED TO AMPUTATE HER LEGS. SHE REFUSED. SHE DEVELOPED PNEUMONIA AND SEVERAL OTHER INFECTION ALONG THE WAY. SHE WAS VERY SICK AND ON PALLIATIVE CARE FOR ABOUT 5 WEEKS……...
ドリーは2月始めからとても具合が悪くなりました。転んで腰を痛め入院しました。それは回復したのですが、彼女の左脚が9月に受けたレントゲンの影響で感染し悪化していることが発見されました。それは治りそうもないように見えました。右脚は別の感染症を起こしていましたが、すべて血行不良が引き起こしたものでした。これらの傷跡や傷はどんどん悪くなり、医者は脚の切断しかないと言いましたが、ドリーはそれを断りました。この結果、肺炎を起こし同時にいくつかの感染症を併発しました。ドリーの状態は悪化をたどり約5週間緩和ケアを受けながら・・・・・。
「脚のレントゲン」で思い出しました。ドリーの大腿骨はステンレス製の人口骨に取り替えられていました。階段の上り下りは辛いのです。遠回りでもエレベーターを使わせるように案内したり、どうしても階段のときは手を引いて歩きました。
正月の足の写真は冗談ではなく、すでに悪い兆候だったのだと思います。
偉大なJazz歌手でした。Dollyに出会えてJazzボーカルの何であるかを知りました。Dolly仕込みの何曲かは脳みそに染み付いています。寝ていても歌えます。
Dolly was a great Jazz singer. I studied what is Jazz vocal from Dolly Baker. Several songs that Dolly taught me became the part of my brain. I can sing them while I 'm sleeping.
1998年にドリーはペースメーカーを入れられてしまった。その時の言葉が「わたし死んでも心臓は止まらないんだから」でした。安らかに眠ってください。
Dolly had put the pacemaker into her breast in 1998. At that time she said "My heart does not stop although I die." Please sleep peacefully.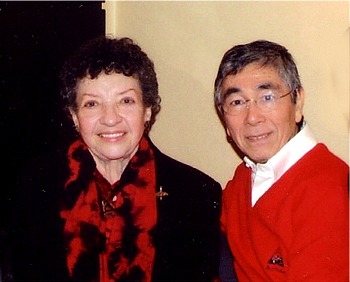 Dolly and me
ドリーのライブに行くと私のために必ず歌ってくれた歌が2曲ある。それは、"A Hundred Years From Today" と "Sunday Morning Comin' Down"だった。
When I went to Dolly's Live, she sang next two songs for me everytime. They were "A Hundred Years From Today" and "Sunday Morning Comin' Down."
⇒ Sunday Morning Comin' Down  (1999年の熱唱)
偉大なシンガーDolly Bakerに乾杯!
Here's to a great singer, Dolly Baker !

SUNDAY MORNING COMIN' DOWN
Kris Kristofferson
1964
Well I woke up Sunday morning
With no way to hold my head that wouldn't hurt
And the beer I had for breakfast wasn't bad
So I had another for dessert
Then I fumbled through my closet
For my clothes and found my cleanest dirty shirt
And I washed my face and combed my hair
And stumbled down the stairs to meet the day

I'd smoked my brain the night before
With cigarettes and songs that I'd been pickin'
But I lit my first and watches a small kid
Cussin' at a can that he was kickin'
Then I crossed the empty street
And caught the Sunday smell of someone fryin' chicken
And it brought me back to something
That I lost somehow somewhere along the way

On the Sunday morning sidewalks
Wishin' Lord that I was stoned
'Cause there's something in a Sunday
Makes a body feel alone
And there's nothin' short of dyin'
Half as lonesome as the sound
On the sleeping city sidewalk
Sunday morning's comin' down

In the park I saw a daddy
With a laughing little girl that he was swingin'
And I stopped beside a Sunday school
And listened to the song that they were singin'
Then I headed back for home and somewhere
Far away a lonely bell was ringin'
And it echoed through the canyon
Like the disappearing dreams of yesterday

(April 24, 2014 Kunihiro Wakayama)