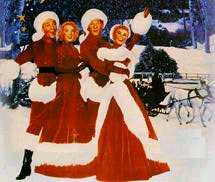 Bing Crosby with Danny Kaye,
Rosemary Clooney and Vera-Ellen

"White Christmas" is the most famous Christmas song that Bing Crosby had a big hit with. Irving Berlin wrote it for the movie "Holiday Inn" in 1941, and the next year Bing Crosby recorded it with John Scott Trotter orchestra.

The movie "White Christmas" was realized in 1954. The left picture is from that film. I watched it at Togeki (Tokyo Theater), and I bought that record to be able to sing the song "White Christmas" in English. It was the time when I knew only "jingle Bells". What was the song on the other side of it? Well...I wonder it must have been "Jingle Bells" which was the only English Christmas song I had known until I bought that record. I tried Crosby's tune and his whistles when I was 13.