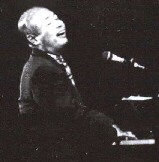 Yasushi Sawada(1939- )
at Recital, 1993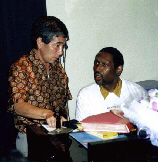 John Hicks(1941- ) and me

Now this is the end of a beautiful friendship
It ended a moment ago.
This is the end of a beautiful friendship
I know for your eyes told me so.
- - - -
And just the beginning of love.
Nat King Cole and old singers sang. I was enraptured this song by Four Freshmen at first. Yasushi Sawada sang in the recital of 35 years anniversary of his music career backed with full band. Trombonist, Hiroshi Fukumura arranged the music and it was so beautiful. And Sawada performed great.
John Hicks came to Japan for the tour of Suzie Kuroiwa who is a famous Jazz singer at Sapporo in 1998. After the live in Tokyo, they came together to a Jazz bar, Little MANUELA at Akasaka-mitsuke. I was there for Suzie is my friend.
A favorite song of John Hicks is "A Beautiful Friendship". He'd like to find any person who knows this song. I was the only one who knows it. He played piano and we sang this song together.
We found out the lyric together as in the left photo at that time. John was born in the same year as my birth year. Therefore he is a nice guy as I.
Trans. by Kisshi