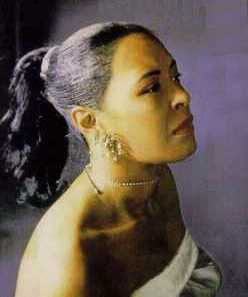 Billie Holiday (Eleanora Fagan)
(1915-1959)

Beside, Billie Holiday was one of the greatest Jazz vocalists that affected to Ella Fitzgerald, Sarah Vaughan and many singers later on. However, Holiday herself initially (adored and) took over Bessie Smith's Blues. Soon later, Lester Young and Louis Armstrong finally influenced on her (way of singing) greatly.

Holiday had never belonged to any band, but she had first recording experience with Benny Goodman Orchestra in 1933. She then marvelously performed classical Jazz vocals with Teddy Wilson, Louis Armstrong, Count Basie and Artie Show in sequence; as a result, she left 307 songs in her short 44 years of life.