He visited my Jazz Site from Dallas, Texas in Octorber, 2001. He signed and wrote the announcement of his Live Show in Tokyo into the Guestbook. He seemed to be a honest and polite American through exchanging many e-mails. He would come to Tokyo for his Live Show in December, 2001.
He wondered and worried about the number of audience at his show. I took more than twenty Jazz friends to the live at a live house SOMEDAY in Tokyo. He was moved.
"You look like father or elder brother"
Furthermore, we invited him to a private welcome reception held at a Jazz club Little MANUELA. Over thirty adults got together. Because of he became a Jazz singer lately, he is just a new voice. However his songs is rapidly growing. He came back to Tokyo in April 2002, I felt his vocalization has improved and his voice is much powerful than before.
A famous Jazz critic Mr. Masahisa Segawa highly evaluted his music. Also he told me that Craig must be a very mature person as I guessed before.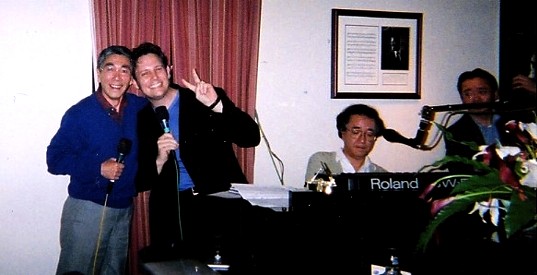 Big-T & me, Shun Miyazumi(p) and Makoto Arai(b) at
Little
MANUELA
There is a duet song for us. It is "Me and My Shadow" specially arranged for Frank Sinatra and Sammy Davis Jr. in 60's. This song is very swingy. He suggested me to sing this song together and sent me the music last year.
This is the second time to sing with, but it was the day after successive two days live. I thought he might be much tired and lost his voice. So I provided the music changed its key D into C major. Actually, it is rather easy for me to sing the high note part of Sammy.
He brought me a big news that he was invited to the Golden Jubilee for fifty years anniversary of Queen Elizabeth II in May 2002. I am sure that he will be a famous singer in the world.
When all is said and done, he was 400 pounds.
Big-T announced me his recent activities by e-mail. Details are on his Site.